K
en planted several butterfly bushes in our yard a couple years ago which have tripled in size to our delight. They now stand taller than us. As summer approaches (in our part of the world), we await the return of the butterflies and any transitions these wonderful creatures may symbolize for us. In
Shamanism
, the butterfly is a totem animal symbolizing change, joy and color. It is the symbol of the soul. What healing symbols are popping up in your life these days? Might it be time for those of you who have taken Reiki Level 1 to learn the three healing symbols taught in Reiki Level 2? Are there healing symbols appearing in your night-time dreams - beckoning to be unraveled? Is a totem animal appearing in your life, dreams, or meditations ready to assist you somehow? Are the angels leaving feathers in your path?
See if one of the articles or courses below might help you uncover the meaning of the healing symbols presenting themselves to you this month.
Breathe,
June Cook
Self-Healing Expressions (S-HE)
~*~*~*~*~*~*~*~*~*~*~*~*~*~*~*~*~*~*~*~*~*~*~*~*~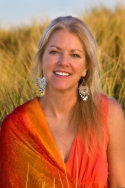 Interpreting Your Personal Dream Symbols
By Laura Grace

Just like dream characters, every dream symbol represents a part of you. In fact, each symbol is you. Quite often, one dream symbol stands out in each dream. This symbol is a key factor and is worthy of your attention and understanding. Sometimes personal dream symbols set the tone or "theme" for the dream. For example, if you dreamt of making the bed with your partner, the dream symbol that stands out is "bed" and "partner" and may imply you need to work on some intimacy issues within your relationship. Read on.




~*~*~*~*~*~*~*~*~*~*~*~*~*~*~*~*~*~*~*~*~*~*~*~*~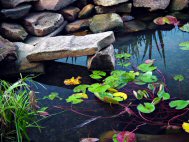 Feng Shui Symbols for Your Health Center
By Deborah Redfern

There are enhancements you can make to your Center area of your home that can help you feel more grounded and balanced in all areas of your life. The Center of the Bagua Map is a neutral area which serves to connect all the other areas together. It is also related to your physical health and is connected with the element of earth - nurturing, stable, centering energy. Traditionally, the symbol used to represent the Center of the bagua is the T'ai Chi, which depicts male and female energy - the yang and the yin, day and night. It also represents the... Read on.



~*~*~*~*~*~*~*~*~*~*~*~*~*~*~*~*~*~*~*~*~*~*~*~*~
| | | |
| --- | --- | --- |
| | | Things That Make You Go Ommm. . . |
I think a bunch of you are going to love this one! It's easy, affordable, and AMAZING. It's called the Dream Wizard. In about 3 minutes, I purchased, downloaded and typed in a goal, added a photo to represent that goal and recorded my own voice claiming my dream. Now it pops up on my computer screen every 2 hours to remind me of what I am manifesting. No kidding! It makes me so happy every time it pops up!
Check it out here
.
Subscribe to this (no fee) uplifting Self-Healing Expressions e-course and get a sense of how our self-paced delivery system works while being inspired by interfaith prayers.
Learn more
.
At Lending Promise, we envision a world in which mothers in every village can adequately feed their children - both their mouths and minds - so young people can dream of possibility rather than limits, of beauty instead of squalor; of dignity and not shame. We give small loans known as microcredit to mothers in some of the world's poorest villages, in regions where human assistance has been insufficient for making a lasting impact. Could you help by making a small donation to help these women? Visit
www.lendingpromise.org
today and learn more.


By Sandra Lee Schubert
The novel could sit in your desk drawer for many years or you could actually get it published. If the thought of approaching a publisher frightens you why not consider self-publishing? There are several options open to you. The field is wide open with the advent the Internet and resources are amazing... Read on.


~*~*~*~*~*~*~*~*~*~*~*~*~*~*~*~*~*~*~*~*~*~*~*~*~

Here's What You're Saying About Our Site and Courses...
"The course was very informative and gave me information I had not received from the previous course that I took [
Reiki 1
]." ~ Joni McFayden, Registered Nurse, North Carolina (Reiki, level 2)
---<>----------------------------------------<>---
"I enjoyed the variety of subjects and the feeling of community. I am at home all the time caring for my mother and needed to feel part of something. I also enjoyed the links to others sites, especially the one to all the prayers. I am going to take it again." ~ Caretaker for mom, Georgia (
Holistic Prayers
)
---<>----------------------------------------<>---
"Affirming. Course put words to many things I had been feeling but could not quite grasp. It also provided insight to my family's grief and why we each feel so different, but yet the same." ~ Janine, USA (
Grief course
)
Thanks for Writing!
Find our full course catalog
here
.
~*~*~*~*~*~*~*~*~*~*~*~*~*~*~*~*~*~*~*~*~*~*~*~*~
~*~*~*~*~*~*~*~*~*~*~*~*~*~*~*~*~*~*~*~*~*~*~*~*~

Meta-Physician On Call
The Healing Power of Sadness
By Steven E. Hodes, M.D.

Sadness is a universal human emotion, a part of every day living. Although many of us view it as a dark cloud that should be avoided and denied, I believe sadness brings a gift of healing. Acknowledging our own sadness can be a crucial step in the healing process itself... Read on.
Steven E. Hodes, M.D. is a board certified gastroenterologist with over 25 years private practice based in Edison and Old Bridge New Jersey. In addition to his medical practice, he has devoted himself to speaking and writing about metaphysics and healing. His book, Meta-Physician On Call, is due out in 2007. Visit him at www.meta-md.com.
~*~*~*~*~*~*~*~*~*~*~*~*~*~*~*~*~*~*~*~*~*~*~*~*~

Coping with Illness: A Coping Blurb
By Arthur Soissons-Segal, Ph.D. ~ Therapist and brain tumor survivor

Serious illness or disability is a family affair. It reaches out and like a powerful magnet it pulls the emotional strings of all who live within its reach. My disabilities affect my wife's daily life as it does mine. We no longer are able to take long walks due to my poor balance, a symptom of neuropathy and of spinal stinosis. I fatigue easily and may show exhaustion by 10 p.m. This limits our participation in... Read on.


~*~*~*~*~*~*~*~*~*~*~*~*~*~*~*~*~*~*~*~*~*~*~*~*~

ANNOUNCEMENTS
Do you suffer from IBS, Migraines, Diarrhea, Heartburn, Fibromyalgia, Fatigue, Joint Pain, or Obesity?
If one or any of these symptoms are too familiar to you, a new program can finally give you the answers and solution. Let my expertise and skills make life better for you. Contact Julianne Koritz, MS RD LDN at or 561-289-7215 today and visit
www.leapdiet.com
.
Share your Angel Stories! You are invited to share your real life angel stories with us and each other on Linda Pendleton's welcoming
Bulletin Board
.
~*~*~*~*~*~*~*~*~*~*~*~*~*~*~*~*~*~*~*~*~*~*~*~*~
Closing Thoughts
| | | |
| --- | --- | --- |
| | | This Month's Holistic Prayer |
Some believe if you whisper a wish upon a butterfly's wings, that wish will be carried to the heavens to be granted.
~*~ The Butterfly ~*~
Transmutation, Dance of Joy
The butterfly is the symbol of change, joy and color.
It is the symbol of the soul.
They remind us that life is a dance,
not to take things quite so seriously.
They also remind us to get up and move.
Dance brings the sweetness of life.
Butterflies bring color and joy to your life.
Look at them and remember what joy is in your life,
if its a lot or a little, it is still joy.
They teach us that growth and transformation does not have to traumatic;
it can occur gently, sweetly, joyfully.
If a butterfly totem has shown up in your life,
make note of the most important issues in your life,
and see what needed to changed.
~
Lin Oberlin
(Used with gratitude and permission)
Peace, Love and Light,
Your Friends at Self-Healing Expressions
Disclaimer
About Self-Healing Expressions
Self-Healing Expressions
Self-Healing Expressions provides self-paced email courses on holistic topics. Site features guided meditation and healing prayers. Course topics include Dreams for Healing, Romantic Resumé, Grief Healing, Pet Loss, Nutrition, Laugh Therapy, Healing the Earth, More Power to You and more. Its popular (free) Holistic Prayers email course contains interfaith prayers, worldwide prayer vigil announcements and inspiring quotes.